FAQ • HOW IT WORKS • ARTICLES 
FREQUENTLY ASKED QUESTIONS
What is Blue Rock aLIVE!? 
Blue Rock aLIVE! is a live concert streaming series featuring performances from the Blue Rock Studio stage in Wimberley, TX, with the mission of connecting artists with the community of fans and supporters. 
How do I watch the show? 
See our events page to purchase a ticket or season pass. The day before each show, we send out an email with the access link to all ticket holders. We will open the stream early (7p) so you can get connected and settle in.  
If you are purchasing a ticket on the day of show, check your email a couple minutes after purchase, and an automated show link will be sent to you.
How do I view the show on my TV? 
Blue Rock aLIVE! is directly accessible via internet browser on your smartphone, tablet or computer.  You can cast/mirror a show directly to your TV from your phone or computer if you have an Apple TV, Chromecast, or Roku device. With the proper adapters, it's possible to connect your device directly to your television (such as via HDMI).  Articles we found helpful: 
How to connect your laptop to your TV wirelessly or with HDMI
How to get YouTube on TV with Chromecast, Cast, Airplay 
My show keeps freezing – what do I do? 
Refresh your show page.
Make sure you are using the latest version of your browser.  Switching to a different browser can also help. 
Make sure you have a strong network connection.  Turn off all other computers and streaming devices.
Test your internet connection here:  https://fast.com/ 
A direct wired connection to your router will improve speed and flow. 
What if I can't find an answer to my problem on this page?
Contact support at support@bluerocktexas.com or call our show day tech line 512-847-7440.
What's the refund policy? (for ticketed shows)
If the show is cancelled, you will receive a full refund for that show or may opt for a substitution offer.  If a show is rescheduled, your ticket will transfer to the new date.  Otherwise, there is a no-refund policy.  Thank you for understanding.  Please contact us with any questions: support@bluerocktexas.com. The artists and the Blue Rock team appreciate your support.
CONCERT DAY — HOW IT WORKS
The stream will go LIVE a half hour early (7p) for you to sign in, test connections, make a beverage and settle in. 

The immersive experience is great on the big screen, quality speakers (or headphones), and turned up!  If you wish to"cast" your screen to your TV, you will find the YouTube link above the viewer window on show day.  See more info below.

We'll provide a chat moderator during the concert and stream support here: support

@bluerocktexas.com and 512-847-7440

There will be opportunities to further support the artists - tip jar, links to albums and merch. We encourage this, of course. 

We hope you'll get way into the experience. The artists absolutely feel your presence. Season pass holders, send us your head shot if you haven't already, and we'll get your face in the place! 

Chat with folks online, clap, cheer, enjoy the music and the encounter. 

Each show will remain viewable for 24 hours.
________________________________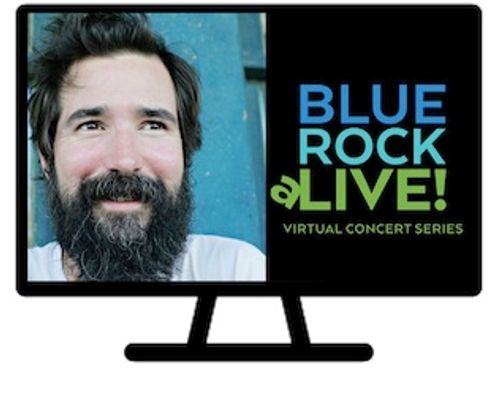 Streaming on TV
What is an Immersive Live Stream Concert? 
It's more than great sound and clear video. We want to give you and the artist the feeling that YOU ARE THERE. The performer must know you are with her. You can chat, sing, whoop, and clap out loud. We recommend you put the stream on a big screen & speakers (headphones), and turn it up! Find a great chair and a great beverage then tune-in. Imagine walking down the drive with us to the big house, say hello to proprietors Billy and Dodee on the front porch, and come inside.  We'll see you soon!