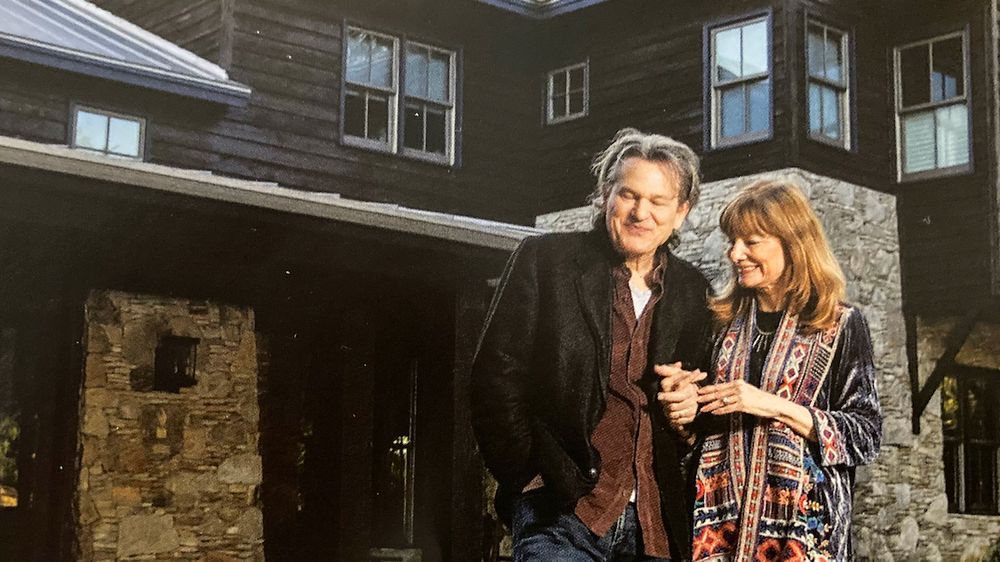 BILLY AND DODEE CROCKETT
Creating a Legacy
By Ashley Brown | Photos by Rodney Bursiel
Sitting in their front yard under "the singing tree," a storybook cedar with massive wind chimes hanging from its branches, Billy and Dodee Crockett reminisce about where each chime came from. As the soothing sounds echo through the evening breeze, the two reflect on the symbolism of this tree and meditative spot made in honor of legendary songwriter Jesse Winchester. It represents the culmination of their goals in building their Wimberley home, a place they share with the community and creatives from all over.
Dodee and Billy met over snow cones when they were fifteen. While their careers took them in different directions—Dodee pursued finance and became Managing Director at Merrill Lynch in Dallas and Billy became a successful touring artist and producer in Nashville—they remained connected. Twenty years later, Billy followed his heart to the Hill Country, and when he moved to Austin, the time was right. They married in 1994. 
Dodee explains how they landed in Wimberley: "We were living in Dallas, both working on Master's degrees at SMU, and for spring break we went down to Wimberley. We took a motorcycle drive and ended up at this cul-de-sac and saw a For Sale sign. We walked through the woods and came out on the ridge with the view of the [blue] rock in the river, thinking, 'Wow, what is this place?'"
They bought the land and began considering its possibilities. Billy explains, "We wanted to build something that was true to Dodee's gifts and mine—her exceptional way of seeing and connecting people and my quest for vital songs and collaborations."
Blue Rock 
They built a striking home in an enchanting setting that is also Blue Rock Artist Ranch and Studio: an artist retreat, recording studio, concert and workshop venue. "We wanted to create a legacy," Dodee says, "a place where people would feel that it was their spot to claim their creative lives. We love it when artists and writers come back to Blue Rock and say I made that album here, or I finished that book here." 
"Artists need to be able to turn off the world," adds Billy. "We need total immersion, a place to work with abandon. It seems this place inspires a rare flow of ideas and expression-enhanced, maybe, by sixteen years of audiences, performers, albums and songs echoing off the walls. Some of our personal highlights include beloved Wimberley native Sarah Jarosz who recorded her first Grammy nominated album here, multiple projects for the legendary Christopher Cross, concerts with Shawn Colvin, Jimmy Webb, and many others."
Nestled in the woods on a hill with majestic views, Blue Rock blends in seamlessly with its surroundings. Beyond "the singing tree" out front is the Main House and adjacent world-class studio, complete with sound equipment by famed audio designer Rupert Neve. Down one path through the trees is The Producer House where producers and artists can stay; other winding paths lead to fire pits and spaces to sit and let the creative juices flow.
Memories
Eighteen years ago, when designing began, architect Lou Kimball asked for songs he could listen to in order to tap into their vision. Dodee chose James Taylor's "You Can Close Your Eyes," inspired particularly by one verse: "It won't be long before another day / We're gonna have a good time / And no one's gonna take that time away / You can stay as long as you like."
They marvel at the creative magic that happens at Blue Rock as they recall the day Australian band The Heart Collectors—while recording an album there—started playing the first notes of "You Can Close Your Eyes" for Billy. Billy explains, "They wanted to include a cover on their album, and this song had just come to them. I was blown away We were speechless. Little did they know that song was in the bones of the entire place."
Another great moment was the day Lyle Lovett booked the studio to record his album "Release Me." Billy says, "Sometimes I have to pinch myself. One thing we said out loud was that we wanted Lyle to make a record here. We thought if we're gonna build this, let's make the goal specific." That call came seven years later.
Building Creative Connection
The Crocketts believe in helping artists breathe life into their best work: songs and stories that nail it. Their unique talents complement each other perfectly in their lives and roles at Blue Rock. Billy can build the right team of players and engineers, he can get to the heart of a song; Dodee can help establish a network for those artists to help sustain their lives with those songs. 
They've built an extraordinary dream from their Wimberley home. They've supported artists and played a role in putting countless creative works into the world from albums and music videos to literary journals…all while pursuing their individual goals in Dodee's realm of finance and stewardship and Billy's of music production and performance. Though, it has not been a straight path.
"During the emerging pandemic-with its toll on artists, tours, venues and the music community-we recognized quickly that Blue Rock might still be of use," says Billy. "So we made a shift and set up six months of weekly virtual shows with prominent artists performing from the Blue Rock stage. The result has been a triple win; it gave artists a real gig with a real paycheck, our community a way to continue to experience the power of performance art and to help support it, and all of us the chance to feel connected every Thursday night." 
Billy recently produced a single for Wimberley artist Susan Gibson. "She wrote a timely and heartfelt thank you to frontline nurses," he says. The recording includes some of Texas' finest troubadours and, through it, Susan has helped lift the spirits of the healthcare community and has caught the imagination of folks ready to voice their gratitude.